Healthy Skin is Beautiful Skin.
It's no wonder people travel from across Texas to San Antonio to see Board Certified Dermatologist, Dr. Annabelle Garcia and her top-tier team of providers at Sonterra Dermatology. Since 2011, Dr. Garcia has been providing healthy, beautiful results in the areas of medical and cosmetic dermatology. Dr. Garcia's reputation for administering compassionate, meticulous care has since attracted some of the finest providers in South Texas, helping to round out her team. Providers at Sonterra Dermatology utilize the latest treatments and technology available, ensuring patients advanced, trusted options.
At Sonterra Dermatology, we can treat the whole family, and you can expect to be treated like family, from the moment you walk into our clinic doors to the time you leave.
About Us
Featured Treatments
Find out more about our featured services, including the injectable and laser treatments we offer, and the advanced technology behind Coolsculpting, miraDry, Emsculpt and RF Mircroneedling. Our San Antonio dermatology office offers a wide array of injectables to transform the skin for a more youthful, beautiful you. Our board certified dermatologist personally administer all injectables, such as BOTOX, Juvéderm, and Radiesse. We are happy to meet with you to offer individualized treatment plans to best suit your needs.
Annabelle L. Garcia, MD
Headed by board-certified San Antonio, TX dermatologist, Dr. Annabelle Garcia, Sonterra Dermatology continues to outdo itself with beautiful results. A meticulous and compassionate dermatologist, Dr. Garcia provides general, surgical and cosmetic dermatology procedures to a diverse group of patients. Due to her rigorous education and training, Dr. Garcia is one of the most knowledgeable and sought-after dermatologists in San Antonio. Her personable demeanor and communicative style has transformed the skin and lives of countless patients.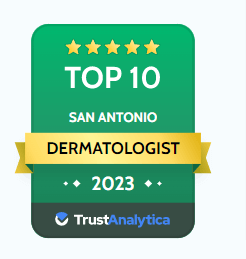 Meet Dr. Garcia
Reviews
"Great doctor. Short wait time. Great staff. Good results (I hope). "
B.
Demandforce
"I came here in February and had a wonderful experience. I only waited about 10 minutes and a lovely PA treated me. She was very warm and engaging, I really appreciated it because I was initially anxious and uncomfortable about the procedure. We laughed a lot and although the process was quite painful, she definitely made it more bearable. Will be following up soon for a second!"
B.
Google
"Dr. Garcia and her staff are on time, professional, and efficient. I revived a thorough exam and evaluation. Service with a smile is the way they operate."
G.K.
Google
"Dr. Garcia and her staff are top notch!"
M.T.
Google
"Everyone was nice, polite and helpful. Doctor had good bedside manners. Had a good experience!"
M.(.
Google
Learn About Us!
Learn more about Sonterra Dermatology and why we stand apart from other San Antonio dermatology practices. With our customizable treatment plans, outstanding attention to detail, and keen eye for achieving beautiful results, our dedicated and skillfully-trained team can provide a wide array of services for all skin types, conditions, and needs. Our beautiful facility is equipped to handle all our patients' needs safely and efficiently.