A native of Laredo, TX, Dr. Annabelle Garcia is a San Antonio board-certified dermatologist who performs a variety of general dermatology, surgical and aesthetic procedures. At her practice, Sonterra Dermatology, Dr. Garcia focuses on delivering outstanding results through compassionate care and customized treatment plans. With each patient, Dr. Garcia looks at him or her as a unique individual who deserves customization, which is what she offers. Bilingual in English and Spanish, Dr. Garcia effortlessly communicates and treats a diverse patient base with expertise and quality care.
Throughout her distinguished career and training, Dr. Garcia has been called upon to treat complex cases, where she has risen to the challenge time and time again. Highly trained in general medical dermatology, Dr. Garcia has vast knowledge and experience in surgical dermatology procedures to treat various forms of skin cancer. With her warm and friendly demeanor, it's no wonder that she's a favorite of her many patients.
With expertise in general medical dermatology, Dr. Garcia effectively treats patients of all ages with varied conditions such as acne, eczema, dermatitis and psoriasis. She also treats a divergency of pigmentation issues like vitiligo. Dr. Garcia can address assorted hair and nail conditions as well. Experienced in surgical dermatology, Dr. Garcia diagnoses and treats a variety of skin cancer patients. For patients looking for aesthetic and cosmetic procedures, Dr. Garcia provides facial fillers, chemical peels, CoolSculpting, Ultherapy and laser treatments.
Starting off at the University of Texas-Pan American in Edinburg, TX, Dr. Garcia earned her Bachelor of Science in Biology with minors in Chemistry and English, graduating Summa Cum Laude. During that time, Dr. Garcia was part of UT-Pan American/Baylor College of Medicine's Premedical Honors Program. In the summer of 2002, Dr. Garcia participated in a study abroad program at Universidad de Salamanca in Spain.
Dr. Garcia earned her medical degree from Baylor College of Medicine in Houston, TX. From there, she continued training at Baylor College of Medicine and completed her Pediatrics internship at Texas Children's Hospital/Ben Taub General Hospital. At the University of Texas Southwestern Medical Center in Dallas, Dr. Garcia trained in Dermatology. She completed her 3-year Dermatology residency at Parkland Memorial Hospital, VA Medical Center and Children's Medical Center. Dr. Garcia was the Clinic Chief Resident from 2010 to 2011.
As the sole owner of Sonterra Dermatology since 2013, Dr. Garcia has transformed the lives of countless patients with her pursuit of excellence. Dr. Garcia has the distinction of being board-certified by the American Board of Dermatology since 2011. Knowledgeable and respected by her peers, Dr. Garcia has been published in more than half a dozen esteemed publications. She's also presented her findings at major conferences across the Southwest. Always advancing her knowledge and skills, Dr. Garcia is an active researcher with UT Southwestern Medical Center.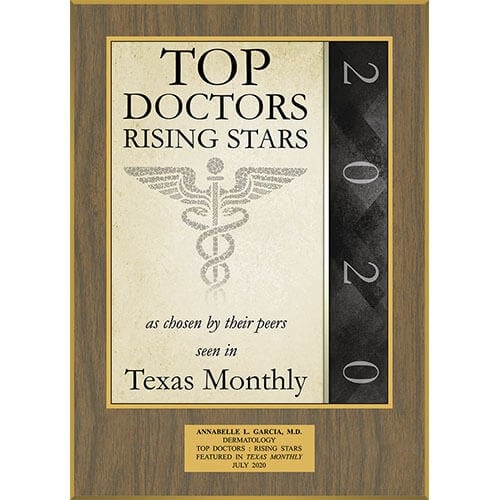 Dr. Garcia is honored to be board-certified by the American Board of Dermatology since 2011 for her advanced knowledge and expertise.
Throughout her education and career, Dr. Garcia has been involved in the following research:
UT Southwestern Medical Center, Dallas, TX, 2009 - Present
Randomized, controlled trial to determine if bleach baths affect outcomes in atopic dermatitis in pediatric patients
Baylor College of Medicine, Department of Cardiovascular Sciences, Houston, TX, 2002 - 2003
Research Laboratory Technician, PI: Lloyd Michael, Ph.D.
Performed surgical procedures on mice, such as left anterior descending artery ligation and aortic shunting/banding
Performed perfusion fixation of murine cardiac tissue
Analyzed cardiac murine tissue and areas of myocardial infarction
Lozano A, Duvic M. Letter to the editor: Cutaneous T-cell lymphoma in non-blood related family members: Report of an additional case. J Am Acad Dermatol. 2007 Mar; 56(3):521.
Lozano A, Garman M, Levy ML, Metry DW. Twin Boys with Abnormal Facies, Atopy, and Reduced Ability to Sweat. Pediatric Annals. 2007 Mar; 36(3):140-2.
Baron S, Madkan VK, Lozano A, Poast J, Guerro-Plata A, Garafalo RP, Tyring SK. Biological Basis of Interferons' Actions and Uses. IN: K Chadha, ed. Interferons: Current Status. Research Signpost, 2007.
Garcia AL, Madkan VK, Tyring SK. Gonorrhea and Other Venereal Diseases. IN: Wolff, Goldsmith, Katz, Gilchrest, Paller, Leffel, eds. Fitzpatrick's Dermatology in General Medicine 7th ed. New York, NY: McGraw-Hill, 2008.
Kelly BC, Lozano A, Attenberg G, Makishima T. Connexin 26 mutation in Keratitis-Ichthyosis-Deafness (KID) syndrome in mother and daughter with combined conductive and sensorineural hearing loss. International Journal of Dermatology. 2008 May; 47(5):443-7.
Richmond H, Lozano A, Jones D, Duvic M. Primary cutaneous follicle center lymphoma associated with alopecia areata. Clin Lymphoma Myeloma. 2008 Apr; 8(2):121-4.
Lozano A, Madkan VK, Tyring SK. Viral infections. IN: Krieg, Thomas; Bickers, David R.; Miyachi, Yoshiki eds. Therapy of Skin Disease. Germany: Springer, 2009.
During her free time, Dr. Garcia enjoys spending some well-deserved quality time with family and friends, as well as traveling and enjoying new experiences.
Reviews
"If you need a great dermatologist you need look no farther than Dr. Annabelle Garcia at Sonterra Dermatology on Sonterra Blvd. She and her associates have been treating me for over 10 years now and their diagnostic and treatment regiments are "spot on." In my experience you can trust Sonterra Dermatology to always be courteous, professional, and exact in both diagnosis and treatments. Without a doubt, they are the best."
E.O.
Google
"Seeing Dr Garcia is always a delight. The staff is always professional and attentive to every need. Thanks."
D.V.
Google
"As always, Dr. Garcia and all the staff are courteous, helpful, and efficient. Everyone is super nice. On time!"
C.R.
Google
"Dr. Garcia is the best. She is thorough and has an incredible bedside manner. I highly recommend Sonterra Dermatology to anyone needing skin checkups and/or cosmetic procedures."
M.F.
Google
"This place came as a recommendation from the patrons at Burn Boot Camp in Stone Oak. Dr. Annabelle Garcia, the dermatologist at Sonterra Dermatology, also attends camp with me. Her office is beautiful and she and the staff are professional, efficient, and kind. This is my first Botox treatment and they were very reassuring during the whole process. I'm looking forward to seeing the final results!"
G.K.
Google
Related Posts