Lips 101: 12 Facts About Lip Volume & Filler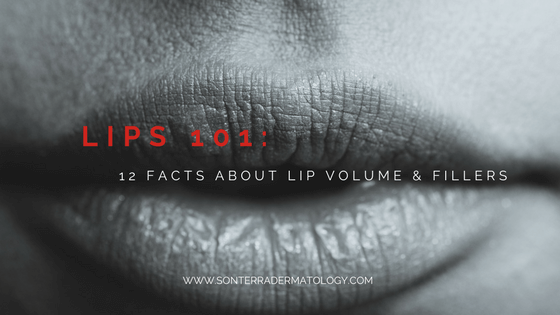 Blog written by Erin Kirwan of Savvy Media PR for Sonterra Dermatology
If you think thick, full lips aren't in, think again.
According to this article on allure.com, 2017 was the unofficial year of "Plumped-Up Lips"
And, lips made famous by reality stars like Kylie Jenner, are still predicted to sizzle in 2018.
"I have had patients come in wanting fuller lips more volume for several solid years now," says Dr. Annabelle Garcia, Founder and Dermatologist at Sonterra Dermatology.  "To many, a fuller lip with proportional volume is a sign of youthfulness."
So, in honor of February, a month made famous for love and the power of  a pretty pout, I wanted to take a good look at lips.  More importantly,  I was interested in learning about lip fillers, cosmetic dermatology's way of plumping up what Mother Nature didn't give us.
I began by doing some initial digging on the aesthetics of lips through time.  I mean, I actually googled the history of lip looks.  What I found was pretty fascinating (to me).
According to this article, full lips weren't always big.  In Italy, in the 1400's, thinlips were actually more prominent.  Features other than the lips were more commonly accentuated in paintings and recordings.  As time marched forward, however, so did fullness of the lip area. Detailed shaping changed through decades, but overall, a fuller lip was portrayed in art, on the silver screen, and in photos, well into the 1900's.  It was not until 1980 that lips took a bit of a backseat (likely to all that big hair!).  Celebrities like Heather Locklear modeled big beautiful smiles, however, a thin and modest lip.  By 1990, however, Julia Roberts, America's Pretty Woman, brought big- back.
Today, countless Millennials are taking the lead to setting the trend for full, voluminous lips.  The rest of us are following suit.   Lip augmentation is now the second-fastest-growing facial procedure in the United States. 
To give you an idea as to just how popular they are in San Antonio, Texas, today, Dr. Garcia, in 2017, performed hundreds of lip fillers on women of all ages, including many women in their twenties.  Like this patient pictured, Dr. Garcia says most women come in asking for a subtle lip enhancement.  Patients want a full, natural-looking lip, rather than a lip that screams "I had fillers".  Safe, subtle, sexy.

We start losing our lips as we age!  The skin between the base of our nose and where our upper lip turns inward actually grows longer.  With that, our upper lip becomes thinner.  At what wonderful (not) age does this begin to happen?  While it varies of course, says Dr. Garcia, we might begin to notice this thinning of the lips in our late forties or fifties.
The number one thing someone considering lip fillers should be cognizant of is choosing a skilled injector.  Dr. Garcia says it is helpful to have someone who is familiar with the facial anatomy, as well as, someone who has done many injections.  Just because someone is licensed to do lip injections, doesn't always mean they're good at it.  Ideally, you want a skilled injector who has experience achieving a natural look.
Write this one down! When we talk lip volume, the "ideal" ratio would have the upper lip at one-third of the volume of that of the lower lip!
Lip Filler consists of hyaluronic acid.  This is something we have in our skin naturally that gives us that youthful effect!  Fillers simply restore this hyaluronic acid that might be lacking.
Everyone has different facial anatomy.  This is why Dr. Garcia always assess a patient's facial proportions and anatomy inside and out before providing injections.  While "bigger" may be all the rage for the start of 2018,  "balanced" lips are always in style, and for good reason.
Lip filler is not permanent.  It typically lasts six to twelve months.
The cost of lip filler, on average, is about five to six hundred dollars per syringe.  Most of Dr. Garcia's patients take about one syringe for lips.
Sometimes a patient might do best with filler on other areas of the face before receiving lip filler.  Dr. Garcia says in order to fill the lips, a patient must have enough volume and the correct amount of volume in the facial area surrounding the lips in order to sustain a lip injection.
Who has the world's largest lips?  Her name is Kristina Rei, apparently.  The young Russian woman is reported to have the world's biggest lips.  She's said to have undergone multiple silicone injections to make her lips like those of Jessica Rabbit of the 1988 movie Who Framed Roger Rabbit.  ( Dr. Garcia does not do silicone lips which she says are permanent and can cause issues like granulomas and nodules.)
Dr. Garcia says, she has at times, suggested a patient not get additional lip filler.  Dr. Garcia says it is possible to go "overboard" which she helps her patients not do.  Dr. Garcia says one syringe of lip filler, for example, is a minimal amount and will not produce the infamous "duck lips" or lips out of balance with the rest of one's facial anatomy.
You know that fleshy bump in the middle of your upper lip?  It's called a labial tubercle.  You're welcome.
Dr. Garcia says it is completely expected for those who get lip injections to see  some swelling for a few days following the procedure.  It is possible to also experience some bruising, though, Dr. Garcia says, as a skilled injector, that is something her patients rarely report.
Last but not least, when you visit Dr. Garcia and Sonterra Dermatology, she will consider one of two types of lip filler: Juvederm Ultra or Juvederm Volbella.  Both are hyaluronic acid fillers.  "Ultra" is for those patients who want fuller lips and Volbella is more for accentuation and fine etched lines around the lips, like smoker lines.  Dr. Garcia will take into careful consideration the anatomy of your face and your beautifully unique features, balancing them with the look you want.
While lip trends are interesting and perhaps helpful to follow, what matters most, according to Dr. Garcia, is that you, the patient receive lips you love.
In the end, a little added fullness can give a big boost in confidence.  And that's something we all love, any time of the year.
Wondering if Lip Filler can get you that look you've been considering?  Click here to schedule a consultation.  Book your Juvederm Ultra or Volbella treatment by the end of February 2018 and get $50 off!