Bride-To-Be Adds CoolSculpting To Wedding Planning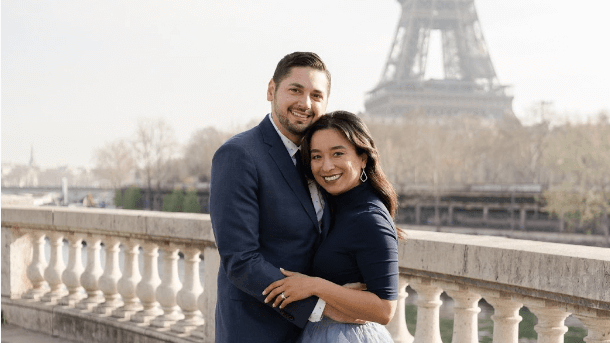 Bride-To-Be Adds CoolSculpting To Wedding Planning
Date? Check. Wedding Venue? Booked. Flowers? Ordered. CoolSculpting Elite? Underway! The number one, non-invasive treatment to eliminate stubborn fat just moved to the top of a San Antonio bride-to-be's wedding planning list, as her fall wedding day excitedly draws near.
Radiant and filled with anticipation, Sarah Duran recently came into Sonterra Dermatology for her second CoolSculpting session. More about that in a second.
First, let's spill on Sarah's wedding details and the proposal because after all, who doesn't love a fairytale-like proposal story!
Sara's boyfriend of six years popped the question a year and a half ago, in the most romantic of settings.
The proposal
Cue photographer.
Cue cute outfit.
Cue the most insane backdrop.
The proposal happened while on an already-dreamy vacation in Paris. The couple went for a stroll through the heart of the Luxembourg Gardens. As the pair approached the Medici Fountain, Sarah's boyfriend, Chris got down on one knee and asked Sarah to be his forever person.
Sarah was even wearing the quintessential Parisian hat at the time. "It was picture perfect, it truly was," gushed Duran. "In fact, I can remember walking into this setting with Chris and thinking to myself this would be an amazing spot for a proposal," said Sarah.
In love and now engaged, the couple set a wedding date for November 2023. It gave them plenty of time to plan every wedding detail. As Sarah quickly began to craft her wedding to-do list, she purposefully included a small section of items she wanted to do for herself too, in preparation of her big day.
A self-care sidelist of sorts.
"I really want to feel confident on my wedding day," the 29-year-old told us.
Of course, a lot of that has to do with the dress.
Sarah revealed that she found and said 'yes' to the dress back in January. "Everything about it is perfect," said Sarah.
But at the same time Sarah thought long and hard about what she could do to make it that much better.
Better-fitting, perhaps. Or maybe better-feeling, because as the saying goes - when you feel good you look good.
Unapologetically, confidence is beautiful.
And who wouldn't want that on her wedding day?
So Sarah asked herself if there was anything she could do to feel even better on her upcoming wedding day.
Her answer? CoolSculpting.
Sarah already sees herself as confident.
She exercises and prioritizes her health.
She's happy with her weight.
But despite her dedication to health and fitness there seems to be stubborn areas of fat surrounding her abdomen that just don't seem to budge.
"I could have made it work, I know, but CoolSculpting is something I have always had on my bucket list of beauty and self-care," Sarah said.
Plus, Sarah's dress has a longer, fitted bodice. "I will probably still wear my Spanx but I think the dress will just lay that much better based on the results I can get and am already getting having done CoolSculpting."
Sarah's CoolSculpting Journey
Back in the clinic of Dr. Annabelle Garcia and Sonterra Dermatology, today would be Sarah's second CoolSculpting session. It would be Sarah's first real opportunity to see her before and after results, following her initial treatment.
Cindy Martinez, master-trained in CoolSculpting, has been with Sarah on her body contouring journey since her initial consultation. Now, roughly eight weeks following her first treatment, Cindy is taking new photos of Sarah so they can compare results.
CoolSculpting Results
Seeing the photos side by side Sarah was impressed.
"I had a noticeable ripple or indent in my stomach area which I have had as far back as I remember, even when I was a size 0 in high school," Sarah remarked. "Now, I don't see it. It's pretty much gone".
Cindy called Sarah's results from her single CoolSculpting session 'amazing'.
"At or near her goal weight and with a healthy lifestyle already in place Sarah was a really good candidate for CoolSculpting," said Cindy.
CoolSculpting works by delivering precisely targeted freezing temperatures to fat cells beneath the skin. Most patients can expect to see a 25% fat reduction in the treated area.
To achieve Sarah's results, Cindy used two CoolSculpting applicators on her abdomen; one placed above her belly button and one below.
Cindy initially thought Sarah might need a second, repeat treatment to the upper and lower areas, which is quite common, however, after seeing her results, Cindy recommended Sarah do only one additional treatment targeting the lower area.
"From here, if she wants to do anything else to further contour her mid-section I would recommend Emsculpt, a treatment that builds and tones muscle," Cindy said.
For now, Sarah is focused on happily seeing her body claim its new shape. CoolSculpting takes from six to eight weeks to see full results.
Knowing all she has to do now is wait and continue to workout and eat well, Sarah can begin to direct her attention to the next items on her wedding-planning list:
Honeymoon.
Bachelorette party.
Invitations.
Coolsculpting and an even greater sense of confidence, now officially checked off the wedding list – allowing this bride to not just live happily ever after but feel it too.
_______
Interested in learning more about CoolSculpting?
Come see us at Sonterra Dermatology for a complimentary consultation. We have two aesthetic team members who have studied and trained at CoolSculpting headquarters and are master-certified.
Call our office at 210-496-5792 or see additional results at www.sonterradermatology.com