Sonterra Dermatology Among First To Get Volux Filler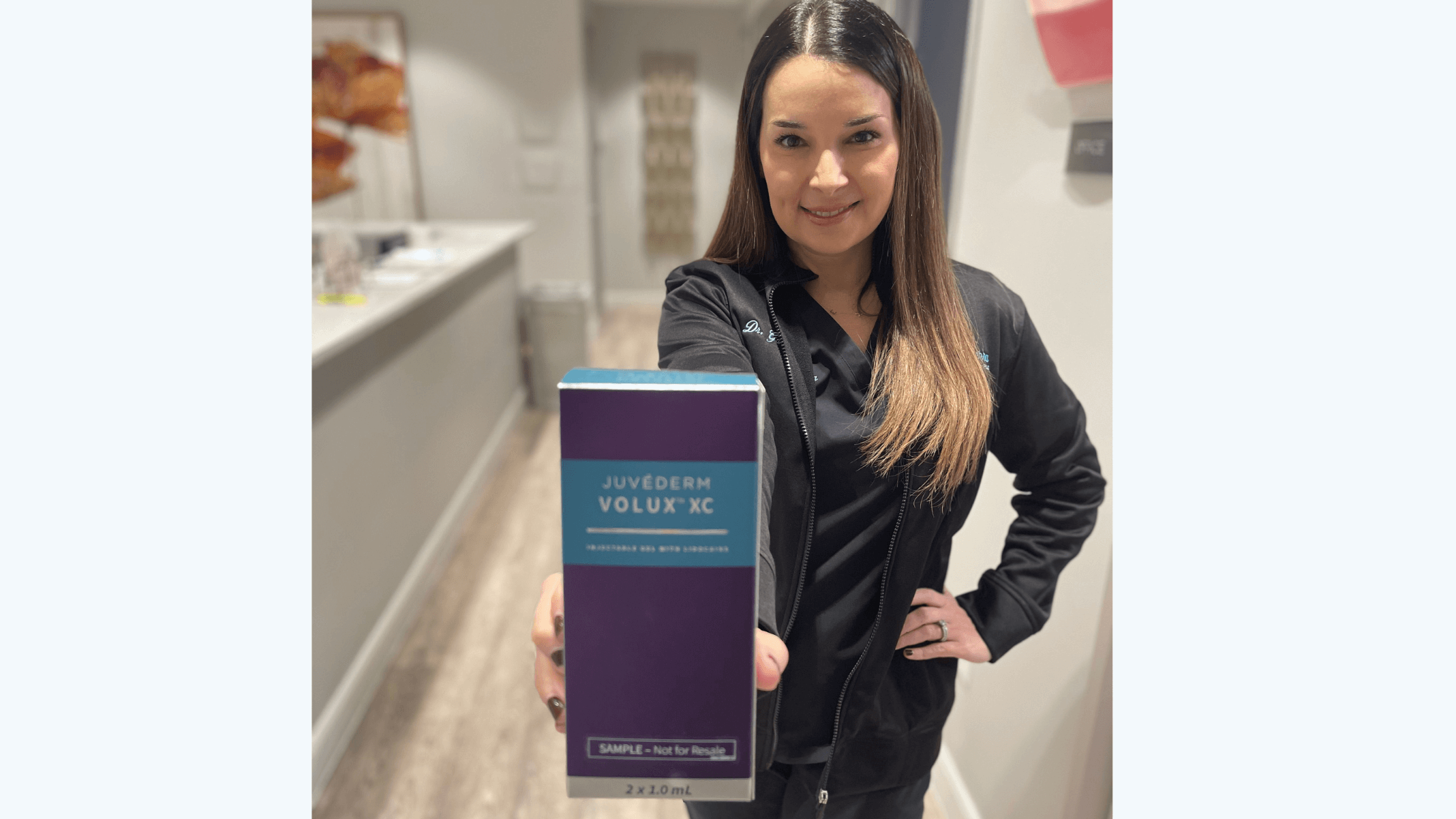 Being a Master Injector Trainer for Allergan, the company behind Volux, a recently-approved filler designed especially for jawline definition, has its perks. Dr. Annabelle Garcia's A-List Injector status has put her first in line among dermatologists vying to get the first-of-its-kind filler. Dr. Garcia injected her first patient with Volux just before the New Year.
"This is what's hot for 2023", Dr. Garcia said about the new injectable. "Patients want it and so do practices across the nation so I feel lucky to already be comfortable with injecting Volux".
Allergan Aesthetics announced the U.S. FDA Approval of Juvederm Volux for the improvement of jawline definition in women and men, in August, saying its release marks the largest leap in innovation for the company's filler portfolio in some time.
It also represents a longer-lasting alternative to achieving a contoured jawline with makeup.
"If you search Tik Tok or social media for the word contouring you will see all kinds of makeup, facial exercises, and devices targeting a chiseled jawline," reported Garcia. "But none of them, [ if they even work at all] will be as long-lasting".
What is Volux?
Volux is made of hyaluronic acid, similar to other Juvederm fillers. Its overall chemical makeup however is a little different. Volux has more structure compared to other fillers. So, it's more cohesive and has better lift capacity according to Dr. Garcia. It is also firmer than its sister-filler Voluma which makes it ideal for the jawline. Dr. Garcia got to see and feel Volux, first hand, at a conference where the new filler was unveiled to top dermatologists and injectors, this fall.
"I literally got to touch and play with the filler," said Garcia. "As a dermatologist it is even more exciting when you get to really see up close and even feel what you'll be working with - or injecting, in this case."
How does Volux work?
There's a science behind how Volux works as much as there's an art to its injection. Because Volux is comprised of a unique, concentrated hyaluronic acid formula in the form of a thick homogenized gel, it will "set" when it is injected into precise areas in the jaw and chin. It can replicate the appearance of bone in both look and feel.
Volux for men, Volux for women
In men, Volux can give the appearance of a stronger, more pronounced chin.
In women, Volux can offer the appearance of more sculpted, angular features.
"Not only do we lose fat pads as we age giving us the look of sagging or skin, we also lose bone density," Dr. Garcia shared. "Volux can help replenish the losses we experience due to age, gravity, and genetics." Research tells us that men want a defined jawline today as much as women.
Our first Volux results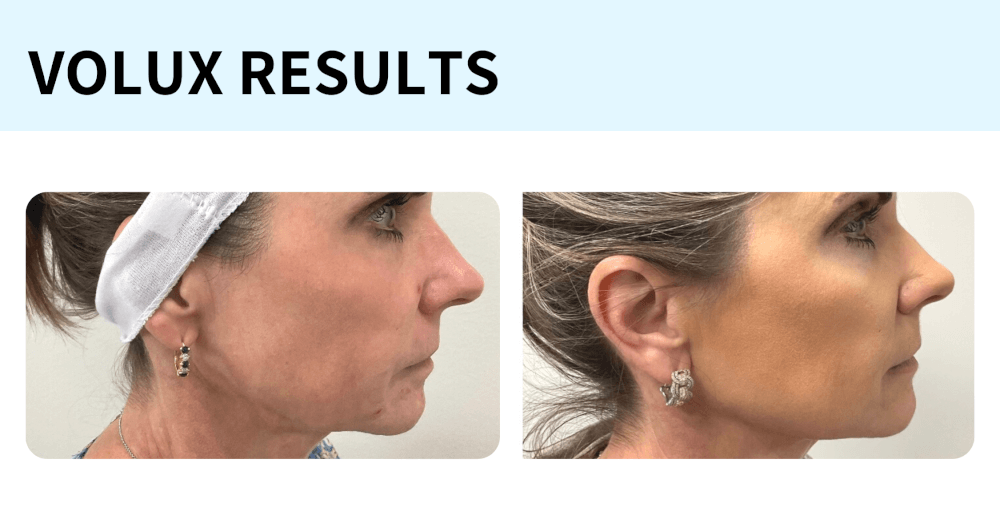 In her first injections with Volux, Dr. Garcia treated a female patient. The patient received 2 syringes of Volux to her jawline. Dr. Garcia also injected 1 syringe of Juvederm Voluma filler to the chin to give her a more symmetrical appearance and profile.
"The patient was very happy with these results," said Dr. Garcia.
Needle vs. cannula
An interesting thing to note about Volux filler is that more and more dermatologists are using a cannula delivery method in addition to or in place of the more typical needle injection.
Dr. Garcia uses a hybrid combination.
Microcannulas are blunt-tipped metal cylinders with a side port that can be used in lieu of needles. A puncture is made prior to the injection with the cannula.
A benefit of the cannula is a single point of entry, reducing the number of injection points during a filler treatment, according to Dr. Garcia. "When we use a cannula our patient can expect a decrease risk of bruising and swelling compared to filler delivery with a needle," Dr. Garcia said.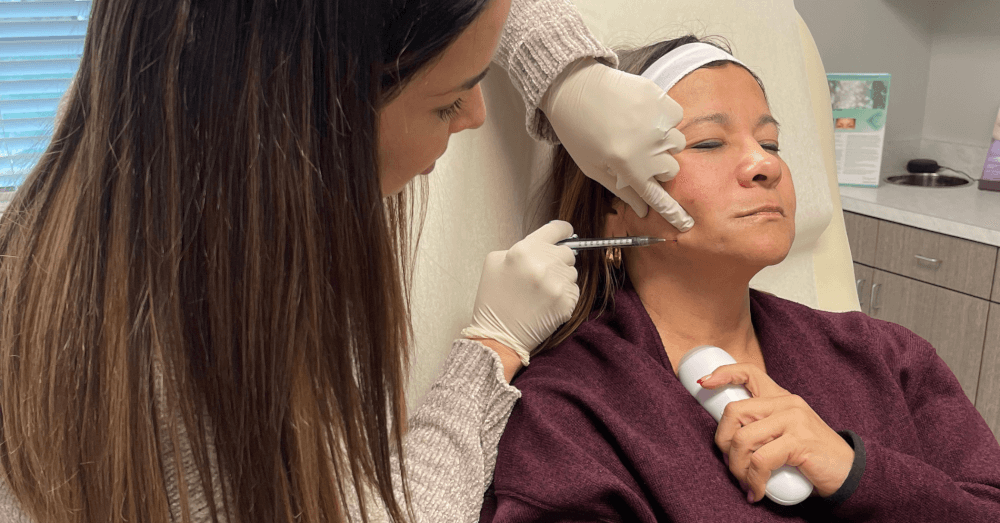 Dr. Garcia added that it is important that patients seek a dermatologist or plastic surgeon who is experienced with using a cannula. "Ask, ask, ask," warned Dr. Garcia. "Never be afraid to ask an injector about his or her experience with a treatment or tool," reminded Dr. Garcia.
More to come
And this is just the beginning when it comes to advancements in filler, believes Dr. Garcia. "With the debut of Volux I think we'll see additional filler products customized for more specific areas giving us a real opportunity for touching up those detailed fixes we're searching for to help us fight the aging process and feel our best."
_____
Sonterra Dermatology has two beautiful locations in San Antonio, Texas. One location sits north in the city near Stone Oak. The other location can be found closer to downtown, not far from the historic Pearl district. Sonterra Dermatology accommodates patients from all over south Texas including Laredo, New Brunfels, Boerne, and Corpus Christi.