Saying Yes To Self-Care in 2021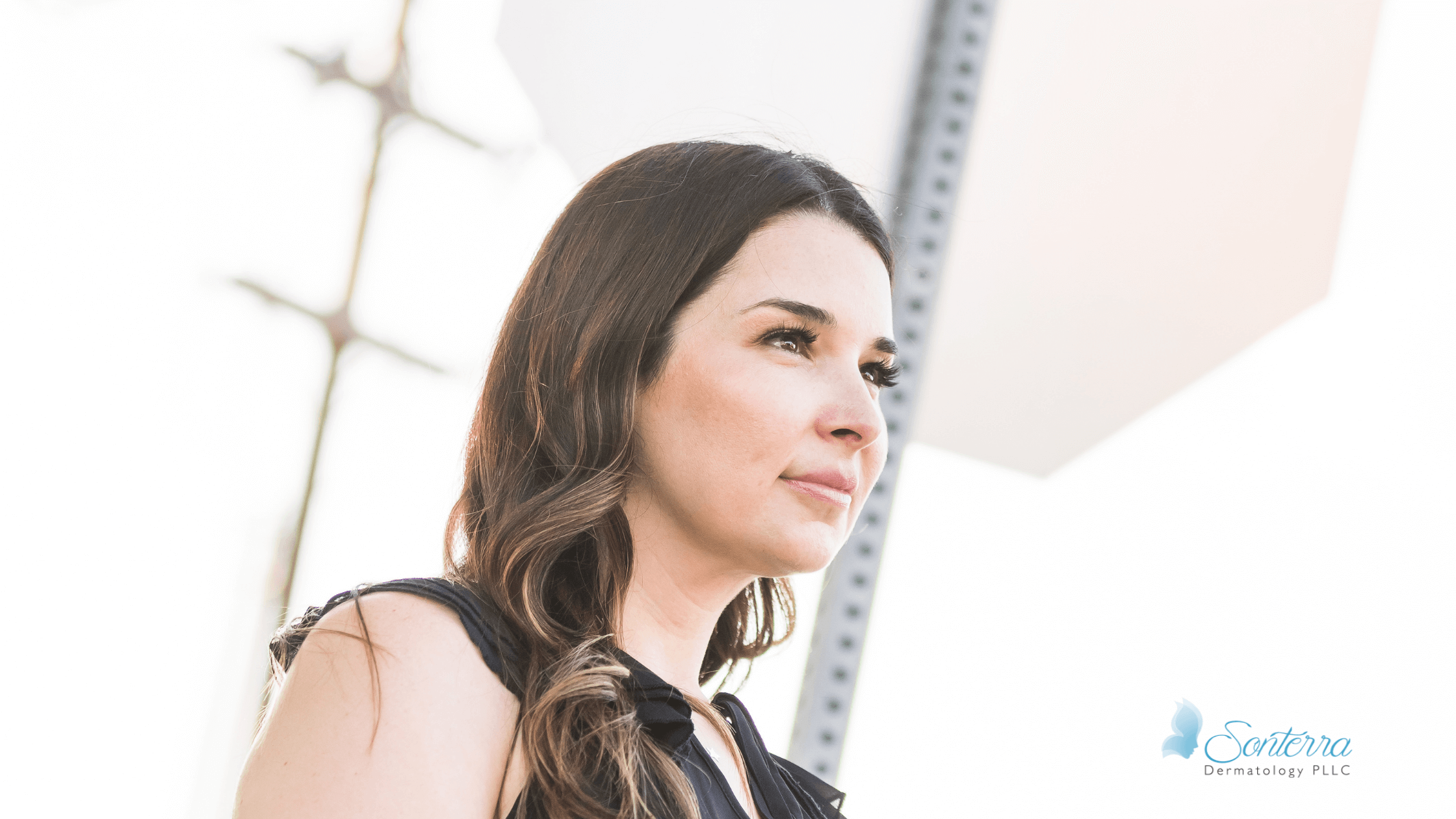 Some things come easy to me.
Writing, connecting with people, parenting (on most days, ha).
Other things, like cooking and saying 'yes' to self-care are a lot tougher.

The idea that a dermatologist such as myself finds giving herself permission for self-care incredibly difficult probably seems strange. After all, I'm in the business of equipping people to take better care of themselves and their health. Not to mention I have creams, serums, equipment and more at my fingertips. All waiting for me to simply use them.

Problem is, self-care isn't always simple.

I think that's because when it comes to self-care there are deeper things at work. First, there's the issue of time and not not having enough of it. As a physician and mom of two young girls who loves to work and to spend time with her children I rarely take time out for myself. Also, there exists a big mental component involved with giving one permission to love thyself. We are often taught to love others first, and rightly so. As mothers we instinctively care for our children, often at all-cost. We pour our hearts, minds, souls - everything we've got - into making sure our children's needs, and those of our partner, friends, and others are met. Problem is, sometimes we forget about our own needs in the process.



Lucille Ball once said, "Love yourself first, and everything else falls in line. You really have to love yourself to get anything done in this world."

Maya Angelou has written, "As you grow older, you will discover that you have two hands, one for helping yourself, the other for helping others."



Two powerful sentiments that point to self-care being not something that's extra, but rather, necessary.

So when I meet people who say 'yes' to self-care, I am inspired. Especially when they're my patients.

A 52-year-old Boerne woman, Victoria, is one of these inspiring patients.

Victoria has been a patient at Sonterra Dermatology for a long time. Over more recent years she has proudly embraced self-care. 2020 would be no different for Victoria. In fact, when the pandemic forced Victoria to shut down work travel in March, she thought to herself what better time to focus on her health and wellness goals. Victoria kicked up her exercise routine. She also decided to treat herself to a combination of non-invasive body contouring treatments to help her look as good on the outside as she was beginning to feel on the inside.

"I wanted to feel strong again, to feel good," Victoria told me.

Victoria underwent a combination of Emsculpt and CoolSculpting treatments with us at Sonterra Dermatology. She was all in. She treated her tummy area, her back and area around her flanks, her arms, and buttocks. These are areas that can treated with a combination of CoolSculpting to freeze away stubborn fat and Emsulpt to tone and build muscle.

Also, Victoria was a very good candidate for both cosmetic treatments. She was already exercising fairly regularly, had the time to come in and get the treatments, and, perhaps most importantly, had the right mindset for undergoing a non-invasive body contouring treatment such as CoolSculpting or Emsculpt.

"I was never looking for a model-like body," Victoria said. "I just wanted to be able to workout without having to wear two bras. I wanted to be able to move my arms around freely again without feeling self-conscious."

When it comes to non-invasive body contouring treatments such as CoolSculpting and Emsculpt it is important to understand how they work.

CoolSculpting targets fat cells, freezing them until they disappear naturally. Patients can expect a reduction of about 20-25% of stubborn fat in the treated area.

Emsculpt uses highly focused electromagnetic energy targeting fat and muscle by forcing the muscles to contract in a way that's not humanly possible through exercise alone.

The typical protocol for Emsculpt is four to six treatments per area. CoolSculpting results can usually be achieved with one or two treatments per area.

The really good thing about both Emsculpt and CoolSculpting, especially if finding the time to do a treatment is an issue, is that each treatment can be completed in about an hours time. That's a lunch break. Or the time it takes to run an errand after work.

CoolSculpting and Emsculpt also both require little to no down time. Some people report feeling a little sore like they do after a good workout post Emsculpt.

Patients will usually begin to see results from Emsculpt and CoolSculpting a few weeks after treatment. They continue to see results for a good six to eight weeks post treatment. That is when patient usually come running back into our office saying that they've found their abdominal muscles again!

Victoria did! In fact, not only did Victoria rediscover her abs she also really loved how CoolSculpting helped reshape her back area.

"I no longer have to wear two bras," Victoria said.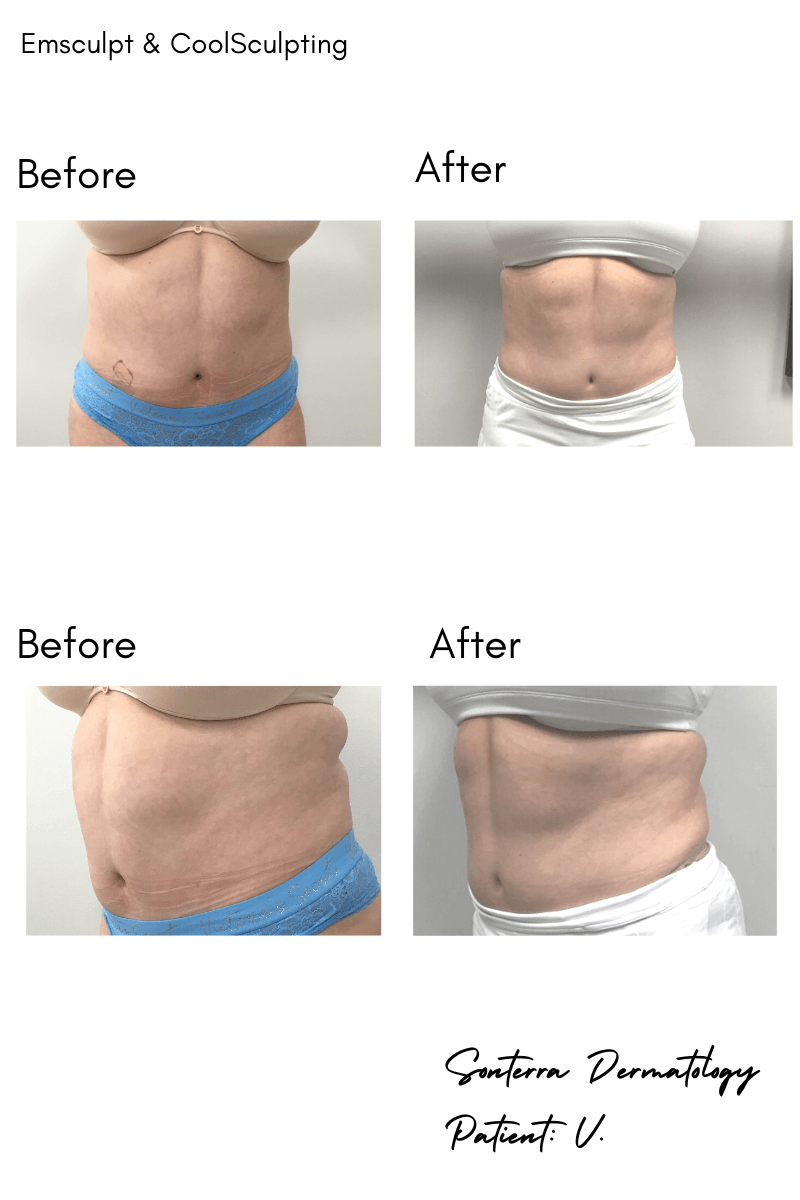 And Victoria discovered more than just a visual satisfaction with body. Unexpectedly, Victoria said she has newfound strength. It has even helped her with occasional aches and pains. "I would highly recommend Emsculpt and CoolSculpting as an alternative to surgery or for that kick-start to one's personal fitness and health goals."
Beautiful and encouraging gains Victoria only ever experienced because she took a chance on herself. Without hesitation, Victoria went for it, treating herself to a healthier version of herself.
So in 2021, I encourage all of us to be a little more like Victoria and embrace self-care. After all, self confidence breeds success and feeling great can fuel productivity. So what do you need to do for yourself so that you can do more for others in 2021?