Sunscreen: Cutting Through the Confusion with Dr. Annabelle Garcia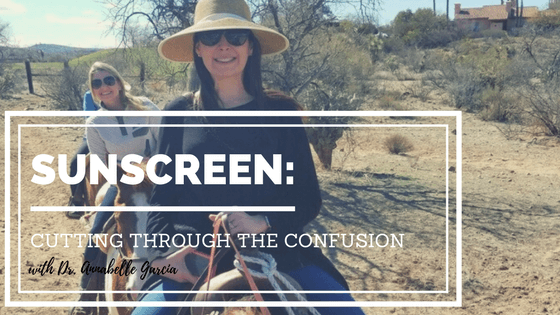 by Guest Blogger, Jenna Hiller of Savvy Media PR 
Every day. No matter what. 
That's Dr. Anabelle Garcia's personal rule for sunscreen. And it's a rule she believes everyone should live by. 
She does.
Take a recent trip Dr. Garcia took with her family to a dude ranch in Arizona.  She recalls her sun protection protocol for the daily horse rides saying people may not think about sunscreen unless a pool or beach is involved.  But, Dr. Garcia says, simply being outside, whether you're on a horse trail ride or at a football game, calls for sunscreen on any and every part of the skin that's exposed.  
"I think of sunscreen as a necessary accessory," says Dr. Garcia.  "It goes with clothing.  It goes with everything, everywhere."
At the dude ranch, Dr. Garcia's daily sunscreen routine went like this: First, moisturizer.  Daily and always.  Over it, Dr. Garcia put on a good layer of Elta MD tinted sunscreen followed by any makeup she may have worn.  Then, Dr. Garcia used the Elta MD lotion over all parts of her skin, other than her face, that were to be exposed during her time outside - hands, neck, legs etc.  While many of her fellow horse riders wore short sleeves, Dr. Garcia says she chose to cover her skin wearing jeans, long sleeves, large sunglasses, and a hat that offered extreme coverage. 
"Some people said that I looked like a nun," laughs Dr. Garcia.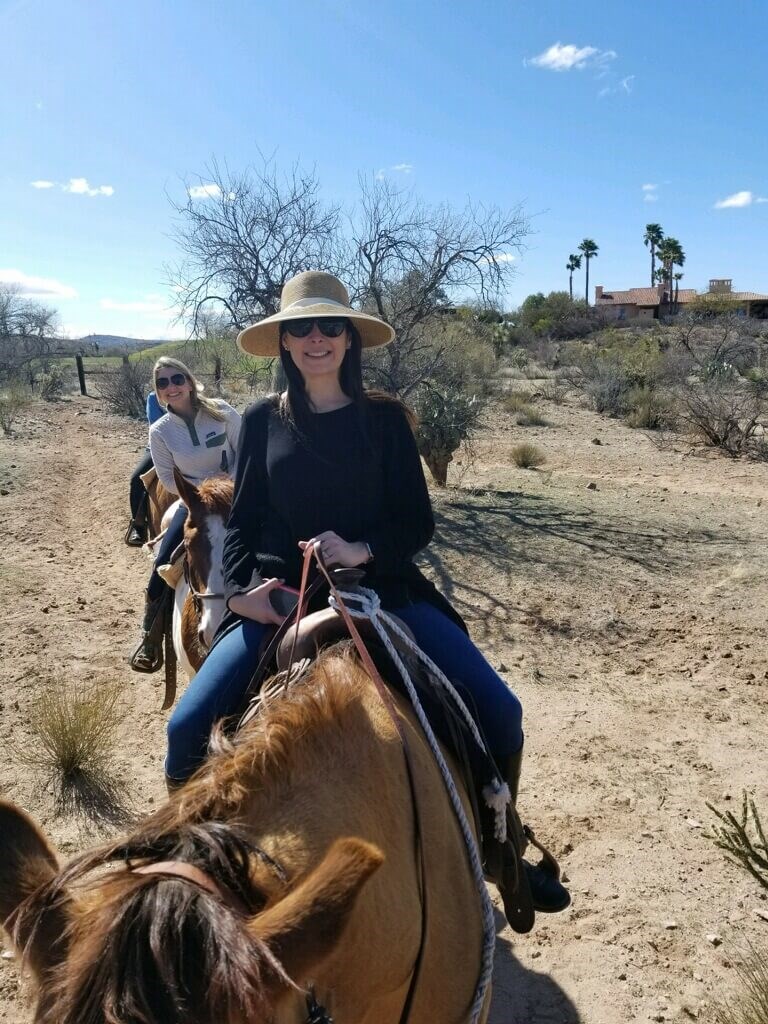 Most of us don't feel like it's reasonable or even necessary to cover up in that way, but Dr. Garcia says that's due to widespread confusion about sun protection. She wants to cut through the confusion.
1. Who needs it?
Everyone. 
"I'm not in the sun. I hear that every day," Dr. Garcia says. "Are you in your car? Do you walk into a building? Well, you're in the sun."
It's a tougher sell on some populations than others.   "Men are less compliant with skin care regimens, creams, and topicals," says Dr. Garcia. "They don't like the way it feels on their skin." All too often that aversion to lotion keeps men from wearing sunscreen. "I have male patients who are avid golfers who finally get on board and say their skin looks and feels better," she said.  While skin cancer is a major concern, appearance is at-risk too. Dr. Garcia has a pretty big wake-up call from what she sees in her office. "Some of my patients look 20 years older than they are, because they've played tennis outdoors all their lives," she says.
2. What kind?
Wearing broad spectrum sunscreen protects against UVA and UVB rays.  "One causes tanning and aging. The other causes skin cancer," Dr. Garcia says.  And, there are also two types of broad spectrum sunscreen — chemical and physical. "Physical blockers are great, because they sit on top of your skin and block without having a chemical reaction in the skin," says Dr. Garcia.  It's also important to wear the right sunscreen when you're in the water. Not all sunscreens are water resistant. 
Dr. Garcia's top pick is Elta MD, which offers a wide variety of options including tinted sunscreen, a go-to for Garcia. 
But even more important than brand is choosing a sunscreen you'll actually use. "Find one you like," says Dr. Garcia.  "Being consistent with wear is what's key."
3. How much? 
A dime-sized amount will not do. Dr. Garcia says SPF 30 blocks 97 percent of the sun's rays, but only if you use enough.  An adult needs about an ounce to cover exposed areas. That's about a shot glass full per area! Often, people think they're getting sun protection, but not slathering on enough to get the full benefits. 
4. How often? 
Every 60 to 90 minutes, especially if you're in water. Even if you use the right sunscreen and enough of it when you first go into the sun, that's not enough for a full day of exposure. It's easy to let the day get away from you when you're having fun, so set a timer on your phone.
Dr. Garcia also warns against taking too much comfort in high SPFs, which still need to be reapplied often. 
5. Spray sunscreen.  Yay or Nay? 
Use this seemingly more convenient option with caution. Dr. Garcia is skeptical of most spray sunscreens, because she says she sees people using them wrong, time and time again.  For example, she says you have to use spray sunscreen by spraying very close to the skin.  Most people tend to spray from several feet away and that won't cut it.  If you really want to use a spray, says Dr. Garcia, keep it very close to your skin and rub it in. Dr. Garcia suggests using one where you can see the particles, so you know it's hitting your skin and can visibly see it to rub it in.  She prefers that spray sunscreens that spray white compared to clear.   Dr. Garcia's favorite spray sunscreen is called Aero and made by Elta MD. 
6. Kids & sunscreen 
Just like with adults, Dr. Garcia insists SPF 30 is the minimum too for kids.   Again, apply often.  She likes Elta MD Pure followed by Aero Elta MD spray.  
If sunblock sticks are your jam, Dr. Garcia says to use one with Zinc - the thick white stuff.  Though it's more difficult for the skin to absorb, it offers better protection, says Dr. Garcia. Some of the other OTC brands she likes for kids are Neutrogena and Blue Lizard.  And, rash guards.  Dr. Garcia's daughters wear them proudly on vacation.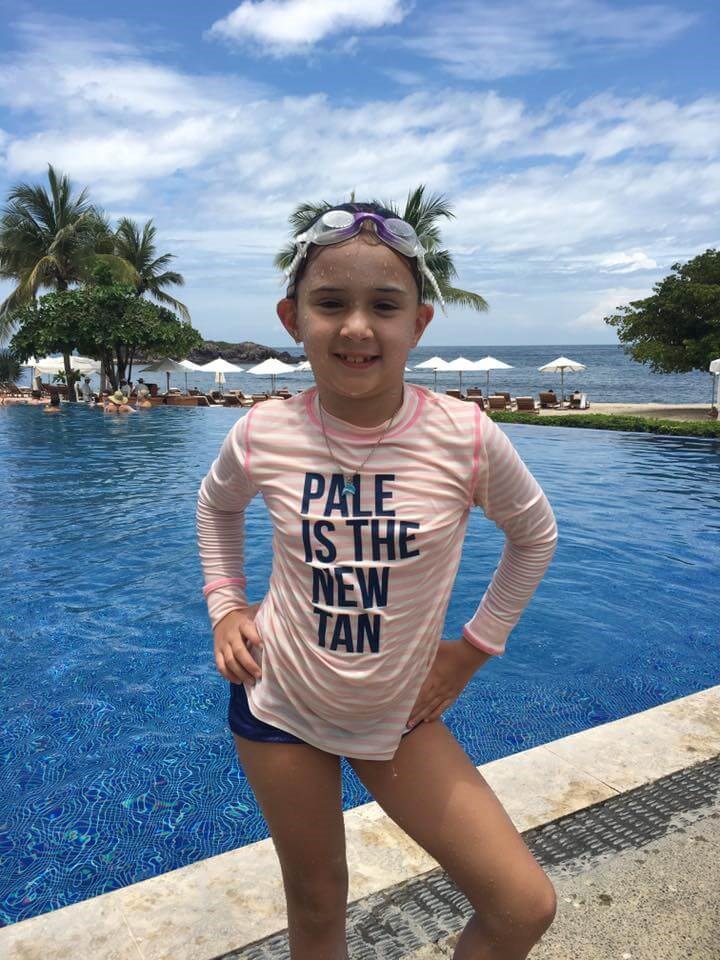 7. Is sunscreen enough?
Often, it's not enough. You can take one look at Dr. Garcia's dude ranch style to see where she stands on this. Hats, shirts, pants, rash guards and umbrellas are all important parts of protecting skin. She models it and so do her daughters.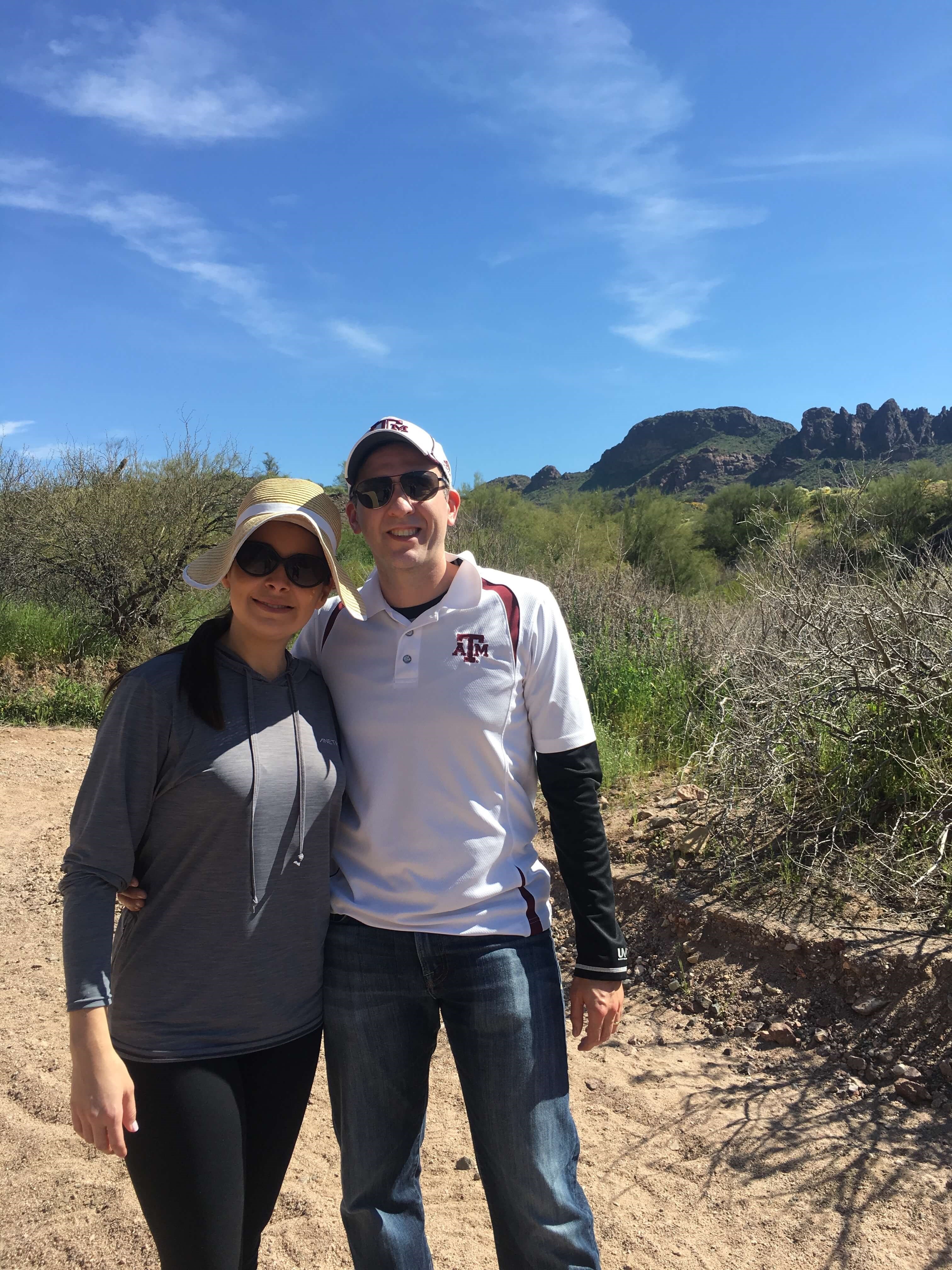 Cover up and seek shade is Dr. Garcia's best advice. Sunscreen is an important, and always necessary, back-up plan for every area not covered.