Dr. Moore: Dermatologist and New Daddy; A Candid Conversation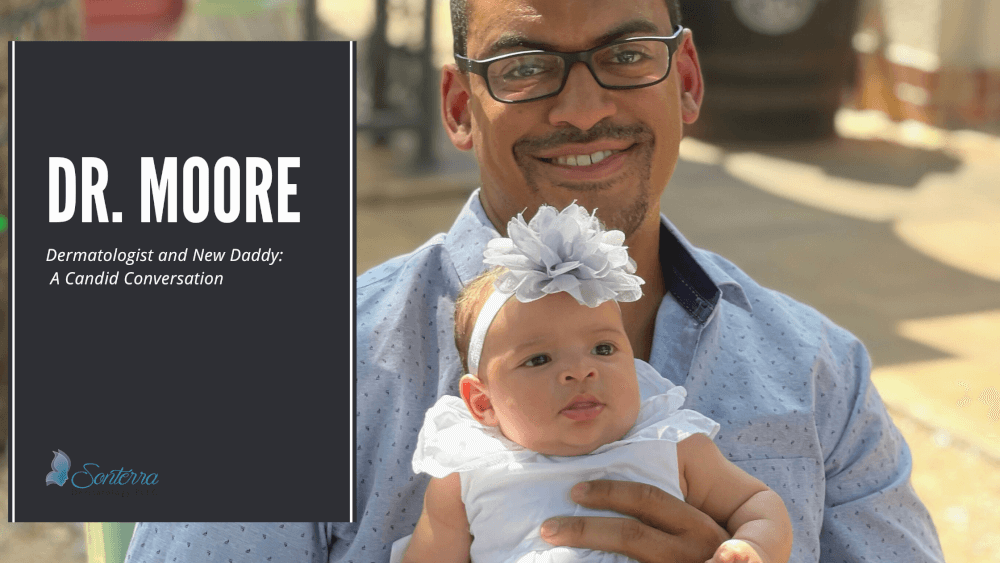 Dr. Moore: Dermatologist and New Daddy; A Candid Conversation
By Erin Kirwan Savvy Media PR for Sonterra Dermatology
Poop. The blowout kind. That's literally how my conversation with Dr. Milton Moore, Board-Certified Dermatologist started. We talked about poop - that of his two month old daughter, that is. I was not the least bit phased. Instead, it affirmed just how official it had become. Dr. Moore, Dermatologist at Sonterra Dermatology, was a certifiable, proud, new daddy.
Dr. Moore and wife Anny, welcomed a beautiful baby girl in May.
As Sonterra Dermatology's Publicist and PR Manager, I recently had the chance to sit down with Dr. Moore for a candid glimpse into his exciting new role.
______________________________________________
My interview with Dr. Moore didn't start with my line up of questions. It began with photo sharing. Like the father of yesteryear who would proudly reach for his wallet to find the one or two school photos hidden behind old ID cards, Dr. Moore opened his iCloud to show me Taliah's most recent photos. Diaper blow-out and all.
Erin: Is parenthood anything like what you envisioned?
Dr. Moore: It's ten times better.
To know Dr. Moore is to know he can be grounded yet sometimes unconventional to get a result he's confident about. Sure, he treats the more typical dermatology conditions like rosacea, acne, and does dozens of skin-cancer checks and follow ups on the daily. But minor cosmetic ear surgery to fix where an enlarged piercing had been? You got it. Aggressive treatments on skin of color? No problem.
Dr. Moore is smart.
He is skilled.
He is a perfectionist.
But do not think you'll find this second-generation MD with a baby book in hand.
Erin: Did you read a lot about parenting leading up to Taliah's birth?
Dr. Moore: No. My wife did. But no, I did not. I'm relying on instinct (laughs).
Erin: No 'What To Expect When Expecting' tutorials? Then where did you get your How To Parent A Newborn 101?
Dr. Moore: Honestly? My patients. I got so many helpful tips from my patients. They continue to ask how Taliah and Anny are doing. They ask to see photos. And if I'm lucky, they share a newborn hack or some cool parenting trick. I drive home thinking I'm going to try that.
Erin: Taliah's two months - almost three. What has left you awestruck?
Dr. Moore: Her smile. Now, when we change her diaper she smiles and coos. It's just the coolest thing to see her personality starting to take shape. It is interesting how having a baby changes you. When Taliah was born I shed tears (of joy). I think both Anny and I realized that we now live for someone else.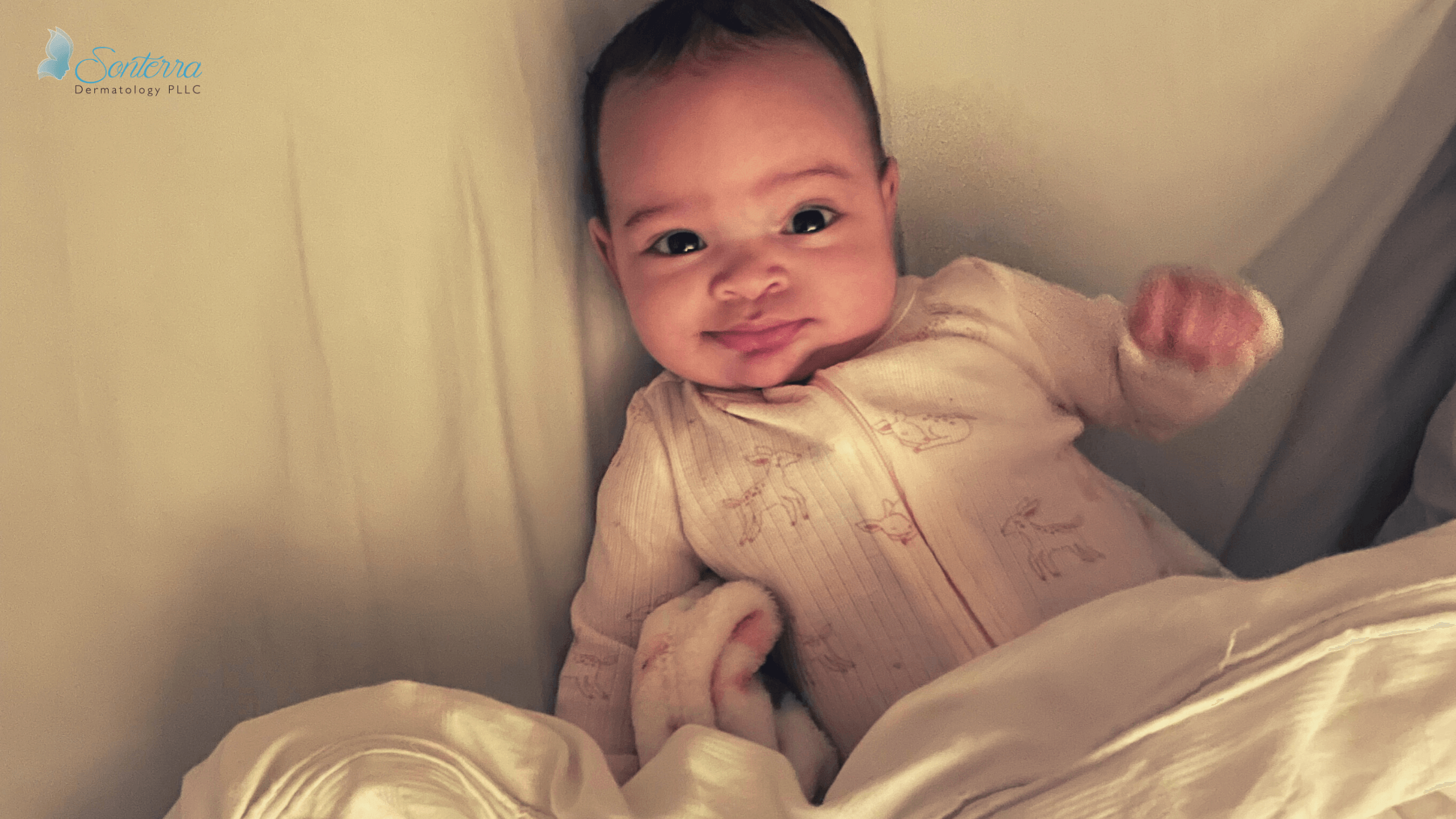 Erin: How was Taliah's birth? Did everything go routine or as you thought?
Dr. Moore: There were actually a few scary moments for us. I remember feeling a kind of worry that I had never felt before. Initially, Taliah had trouble breathing so she had to go right to the NICU. So, going up to see her for the first time was a moment I'll never forget. I looked at her full of worry and amazement.
Erin: Let's talk about balance. It cannot be easy being both an in-demand Dermatologist and daddy. How are you and Anny handling all of that?
Dr. Moore: Well, in order to do my job as a physician I have to be 100-percent every day. So, I have to sleep. I am fortunate in that Anny respects and understands that. In addition, for the time at least, Anny is home with the baby so she takes the majority of the night shifts and baby duty. But let me be clear. I know and understand that nighttime feedings and caring for a newborn are not easy! One day, Anny had to take her mom to the airport very early. So I was up with Taliah at four in the morning and we spent a good few hours together before I headed into the clinic for a full day of seeing patients. Not gonna lie. That day was rough. Anny does it every day like it's nothing. So, on Fridays, I'm more able to give Anny a break. I do the nighttime shift.
Erin: Is it hard to be at work most of the day? Do you miss Taliah and Anny?
Dr. Moore: I do miss them but we FaceTime on breaks. Anny also sends me photos. She shows me photos of Taliah's big moments of the day and that helps me feel like I'm a part of their day too. I also get to talk about Taliah at work. My patients have become like an extended family. They ask about Taliah all the time. They want to hear stories and see photos. I am very thankful for the support, advice, and well-wishes I've been shown by my patients and work team.
Erin: When you watch Anny what do you think?
Dr. Moore: It's easy to see just how in love she is with our little girl. Anny has always been a lot like me. She's laid back. However, I can see a difference now in Anny. She worries more, as I do. She doesn't want to see Taliah hurting, ever. She's an amazing mom.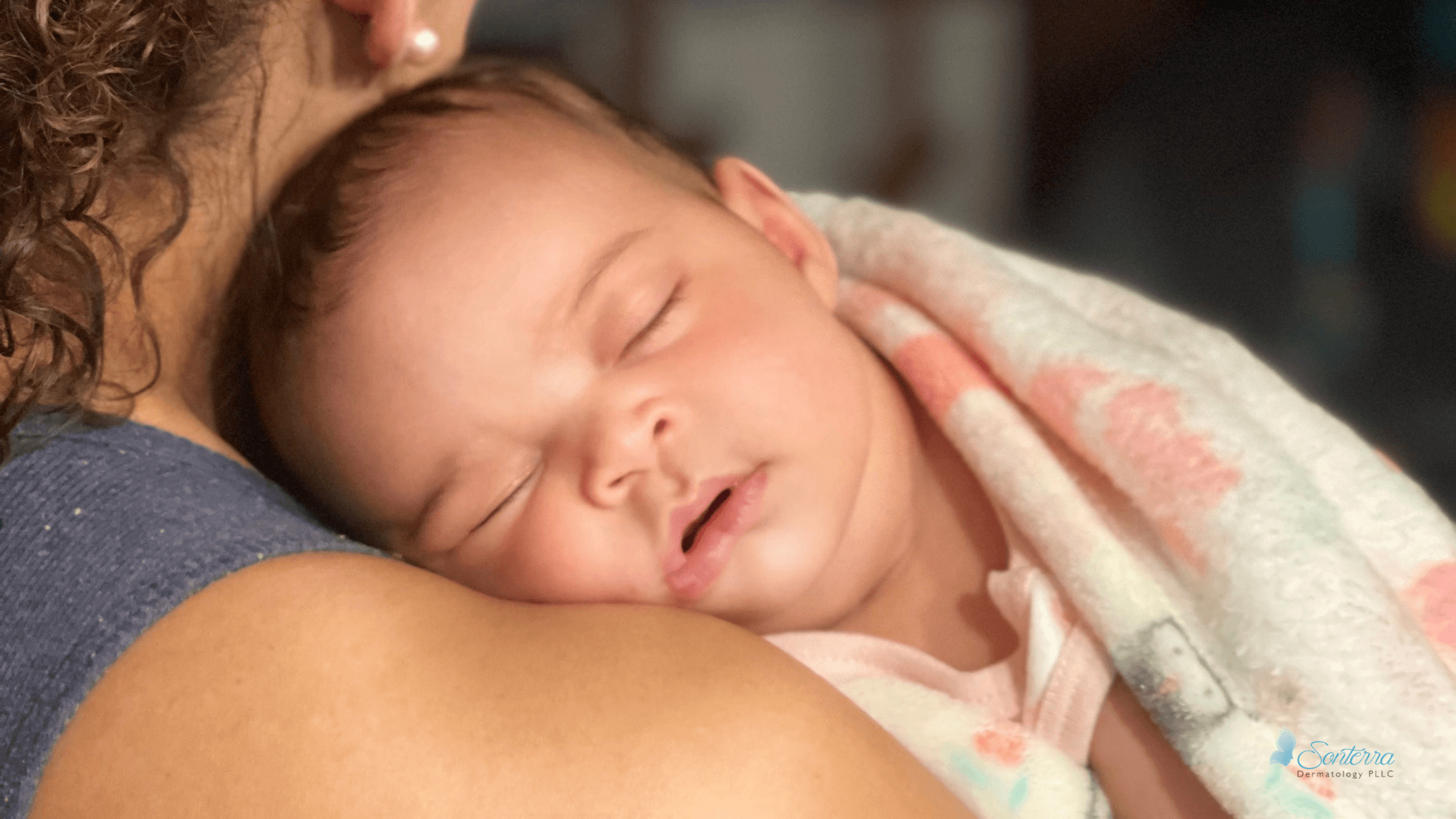 Erin: What's your thing? How have you rocked fatherhood?
Dr. Moore: I'm good at putting Taliah down to sleep. (laughs). Maybe because Anny keeps her up all day, I don't know, but I tend to get her to fall asleep pretty quickly. Yea. I'll take the credit for that (laughs).
Erin: As a Dermatologist, do you obsess over the baby's skin?
Dr. Moore: Not really. Taliah's been pretty lucky. She has not had a major rash or even much diaper rash so far. We use Aquaphor a lot. We did go to the pool with Taliah once. It was big ordeal. We had an entourage and all kinds of baby things. It looked like we were moving into the pool for a week. We are, however, practicing healthy skincare early. Taliah already has a solid collection of sun hats and infant rash guards.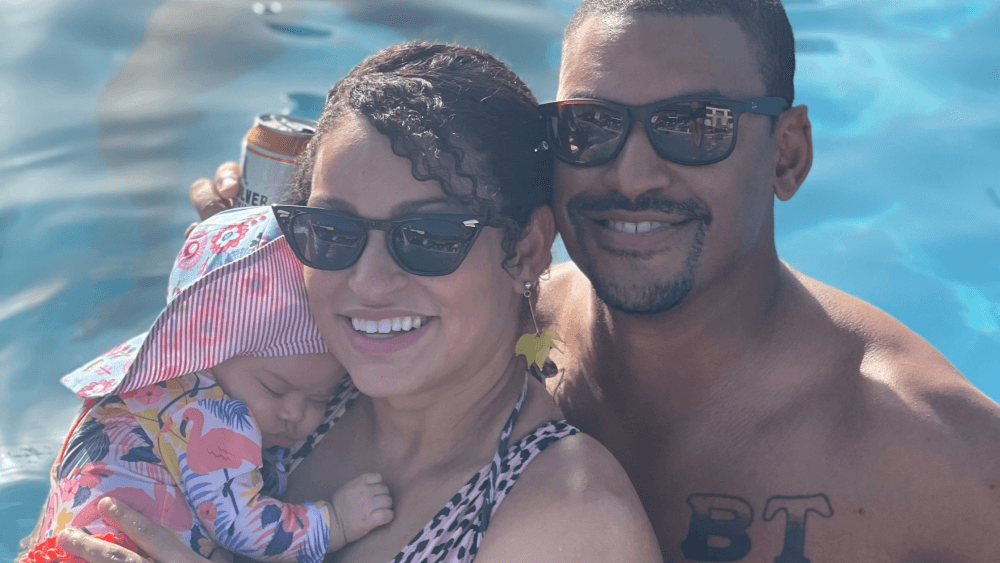 Erin: What's most important to you, in life?
Dr. Moore: Happiness and good health. That's what matters now. Not money. Not things. There is this new sense of fulfillment that surrounds me and carries over to work too. I am really filled with gratitude. For being able to do a job that I love, for my work-family, and for the relationship I have with my patients.
Erin: What is one thing you look forward to doing someday with Taliah? Or, as a family?
Dr. Moore: Golf. I can't wait to teach Taliah how to play golf. It will be something we can do as a family for the rest of our lives. That, and, the fact that I won't have to fight for the time to go play golf otherwise. (laughs).
Dr. Moore and I wrapped up our interview on that note; a glimpse into the future. (Which will undoubtedly arrive sooner than he can realize.) Then, the Dermatologist smiled at me and turned to click the photo app on his camera again. Smiling, he found a few more photos he wanted to share with me - diaper blow outs and all.
Just as any proud, new father would.
-30-